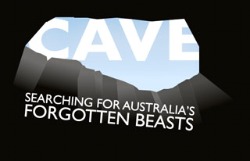 Beneath the vast Nullarbor Plain exists a large number of caves, some of which are littered with the fossil bones of Australia's unique megafauna that lived in our prehistoric past, including oversized kangaroos and wombats and ferocious marsupial lions.
From 8 August 2011, you will be able to peer into this historic world and follow the action of a real scientific field expedition as the WA Museum streams onto its website video footage, interviews and blogs from the Nullarbor.
As well as capturing this unique footage and providing glimpses into the work of scientists, the expedition team, consisting of a documentary director, palaeontologist and a gaming expert, are undertaking the trip as the first step in the creation of an electronic game and transmedia world.

The team will capture live footage and create a 3D scan of a cave to develop a game, video content, and an online experience that will put people in the role of palaeontologists investigating the life of Australia's megafauna.
The August 2011 expedition to the Nullarbor caves is a collaborative effort between the Western Australian Museum and the Flinders University.